How To Make Toothpaste

Micjer




Posts

: 1449


Join date

: 2010-04-29


Location

: Canada

What.....No Flouride?
Thanks for sharing.

Arrowwind




Posts

: 191


Join date

: 2011-03-16


Location

: Idaho

You can make this a powerful antimicrobial toothpaste by adding about 1 teaspoon of xylitol to the mix. I would add it to some hot water to dissolve it first. Lots of research on how xylitol kills oral microbes. We use it in our Spry brand tooth paste. It will make your tooth paste sweet.

Carol

Admin





Posts

: 22447


Join date

: 2010-04-07


Location

: Hawaii


_________________
What is life?
It is the flash of a firefly in the night, the breath of a buffalo in the wintertime. It is the little shadow which runs across the grass and loses itself in the sunset.
With deepest respect ~ Aloha & Mahalo, Carol

Floyd




Posts

: 4105


Join date

: 2010-04-16

Yep

Baking soda and peppermint oil will do the job.

Either that or run into a metal bar and knock your teeth out so you don't have to worry about cleaning them any more.



mudra




Posts

: 18619


Join date

: 2010-04-09


Age

: 63


Location

: belgium

4 Ways to Make Fluoride-Free Organic Toothpaste at Home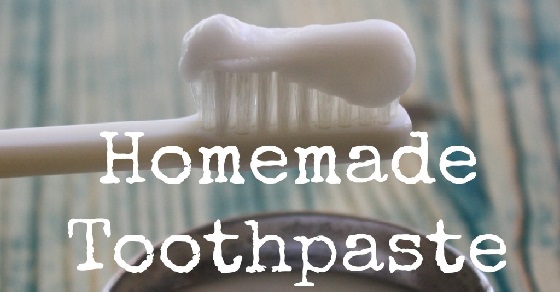 1 teaspoon baking soda
1/2 teaspoon sea salt, finely ground
1 drop peppermint, clove, or citrus pure essential oil
A few drops of water
Mix ingredients in a small bowl and combine thoroughly until a thick paste is formed. Scoop it on to your toothbrush and brush as usual.
2. Vegan toothpaste
Many commercial toothpastes include glycerin to help maintain the product's texture, but unless it is listed specifically as vegetable glycerin, it is of animal origin. If you want a vegan toothpaste that contains glycerin, try this.
2 teaspoons vegetable glycerin
4 tablespoon baking soda
1/2 teaspoon guar gum
8 tablespoons water
5 drops peppermint, clove, or citrus pure essential oil
Place all the ingredients except essential oil in a pot and cook on low heat, stirring frequently, for five minutes or until the mixture achieves a paste-like texture. Cool, add essential oil to taste, and store in a sterile jar at room temperature. Use as usual.
3. Coconut-based toothpaste
This formula swaps out the glycerin and uses coconut oil instead. The coconut flavor and essential oil should mask the subtle taste of the hydrogen peroxide and baking soda, but you can add a few drops of stevia if you prefer a sweeter paste.
6 teaspoon baking soda
1/4 teaspoon hydrogen peroxide
2 tablespoons coconut oil (warm enough to be liquid, which means above 76 degrees F)
10 drops peppermint, clove, or citrus pure essential oil
Put baking soda in a bowl, add the other ingredients and mix until you achieve a proper paste texture. Add a small amount of baking soda if it's runny; add more coconut oil if it's too dry. Taste, and add more essential oil if you want a more flavorful paste. Store in an opaque container (required to protect the hydrogen peroxide) and use as usual.
Here is a bonus:
read on :  

http://www.wesupportorganic.com/2014/03/4-ways-to-make-fluoride-free-organic-toothpaste-at-home.html
Love Always
mudra